Being a keen artist since childhood, Tania has as exhibited works for sale for over 30 years, winning various awards for art and design.
Spending time in the UK, Tania attended community art groups and completed Higher National Diploma in multimedia design, returning to lecture after graduating, while continuing to complete a bachelor of science degree in Applied Graphics in Multimedia at Glasgow Caledonian University. 
More recently Tania has completed a New Zealand Honors Diploma in Creative Art in Wellington.
Tania's artworks have found their way into collections in the USA, UK & Europe and New Zealand.
Tania has illustrated several children's books for self publishing authors.
She welcomes custom art and illustration commissions, and will create from a choice of oil, acrylic, watercolour & graphite pencil. Illustrations can be created digitally.
Tania uses high quality archival materials for her artworks.
Tania's work is currently on display at:
The Otago Art Society Gallery – First Floor Dunedin Historic Railway Station
Previously exhibited at:
Customs House Gallery Oamaru
Wilderness Art on display, 45 Arrow Junction Road, RD1 Queenstown
Arrowtown Autumn Festival
Wanaka Art Society
Queenstown Gallery of Fine Art
Art Bay Gallery
The Emporium
Learning Media NZ Illustrator's Award
The award included of publication in a calander, and a childrens book illustration contract.
ODT Art Seen:
Tania Jack: ''Treasures of New Zealand'' (Lakes District Museum & Gallery, Arrowtown)
Daily Record - Scotland
A set of caricatures commissioned for a family feature in a weekend section newspaper article.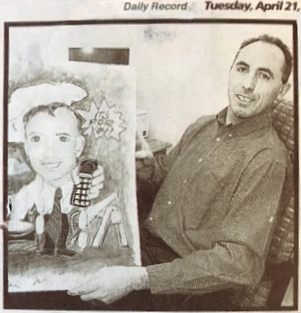 Computer Arts Magazine
Special edition showcasing the UK's up & coming Artists – Graduate Showcase